DEF storage and dispensing solutions that improve efficiency are a priority for end-users, especially where multiple storage units are involved. These containers require setting up separate dispensing systems, a time-consuming but necessary task. Fortunately, a tote manifold system eliminates the need for separate pumps by linking multiple containers together into a single pump suction point. The manifold is a cost-effective and time-saving solution for sites with high DEF dispensing demands.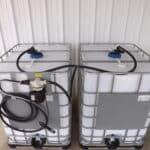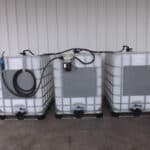 Adding a tote manifold to your existing DEF storage and dispensing system offers the following advantages:
Eliminates the need to move pumps between totes. Fewer pump changes decrease the opportunity for contaminants to enter the DEF, which can result in costly equipment damage.
Dispenses multiple totes at the same rates, preventing unequal amounts of DEF from being dispensed from multiple containers. This is crucial if there are long durations between dispensing due to DEF's limited shelf life. Using the tote manifold ensures the containers are equally utilized.
A dual opening lid design on the manifold using pre-installed standardized four-cam valves enables quick and easy tote refills.
Prepackaged, easy-to-install kit prevents costly delays.
The manifold's two-hole cap replaces the tote's lid without the need to replace existing valves and couplers.
The tote manifold system is especially useful for facilities needing to store DEF in bulk to meet the growing demands of fleets of all sizes.
Blue1 Energy Equipment, a leading provider of DEF equipment, features the tote manifold as part of its complete line of containment and dispensing solutions. Our tote manifold system is available in two or three tote configurations to fit your fleet's DEF needs. Our DEF products are installed at thousands of retail and commercial locations for fleets of all sizes across North America. Contact us for more information on our tote manifold or our other quality DEF parts and equipment.