Implementing the proper DEF storage solution is essential for medium and heavy-duty vehicle fleet facilities. Though DEF is a non-hazardous solution, improper storage exposes the fluid to fluctuating temperatures and direct sunlight exposure, reducing its shelf life. As a result, DEF must be stored in ISO-approved containers with proper dispensing to avoid potentially engine-damaging contamination.
Introducing the Southern EasyTank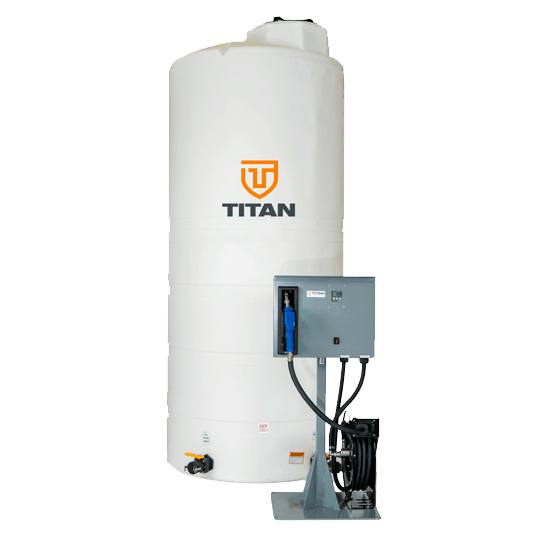 Blue1 Energy's Southern EasyTank DEF storage container ensures your fleet's DEF is protected from the elements. The standard EasyTank features the following components:
Fill and dispense bulkheads for safe handling and DEF contamination prevention.
A fittings package with 2 QD valves to ensure secure connections and prevent leakage.
Available in 500-20,000 gallons for facilities of all sizes.
The EasyTank can be equipped with the following optional features for more efficient dispensing:
A 25-foot hose reel for pedestal or mounted cabinets for proper hose storage and prevention of premature wear.
Pulse meter assembly for fuel management.
Polyester-reinforced fabric tank wrap to protect against harsh environmental elements.
Liquid level indicator for accurate measurement of container contents.
The Southern EasyTank also contains the following remote pedestal features, ideal for high volume DEF dispensing applications.
15″ W x 15″ D x 54″ H pedestal without hose reel.
23 1/2 " W x 19 1/2 " D X 53″ H for pedestal with hose reel.
TD10-115V diaphragm pump.
Turbine flow meter
20'/6′ dispense/suction hoses.
Blue1 Energy For All of Your DEF Storage and Dispensing Needs
Blue1 Energy Equipment features industry-leading DEF containment and dispensing solutions for fleets of all sizes. As one of the leading manufacturers of DEF equipment, our products can be found at thousands of locations across North America. Blue1 Energy Equipment DEF containment solutions are engineered to meet ISO 22241-3, 4, and PEI RP-1100 standards and are pre-wired to conform to UL-508A and CSA C22.2 electrical specifications. This ensures that your DEF dispensing and storage installations are compliant with local and federal regulations.
Contact us for more information about our Southern EasyTank system or any other quality DEF storage and dispensing solutions.