EV Charging Stations, Installation & Maintenance

Blue1 Energy Equipment is a proud partner with ChargePoint, the world's leading supplier of networked EV Charging Stations. As of June 2018, there are more than 800,000 Electric Vehicles and 50,000 charging stations across North America. By 2040, it is projected that 35% of vehicles sold will be electric. Blue1 is positioned to assist you with turn-key solutions to meet the growing demand for EV charging infrastructure.
We offer a variety of charging solutions to meet your needs, including certified installations of the equipment. Our goal is to help government entities, commercial fleets, utility companies, and private enterprise with their infrastructure needs during the shift to electric transportation. These EV charging installations are beneficial to your organization, to your communities, the environment, and to the drivers who use the charging stations.
ChargePoint charging stations use cutting-edge hardware technology that's rigorously tested to be safe and reliable. While our stations are rugged and built to withstand the elements, they also are designed to be driver-friendly, offering a premium charging experience. These stations are part of a complete solution that includes the industry's best warranty, maintenance and management program, Assure. This package includes 24/7 support, cloud-based software with lifetime upgrades, features and plans for every industry and world-class service and maintenance that includes monitoring and dispatch of service technicians if required.


All-Purpose CT4000 Level 2 Charging Stations
The CT4000 is the right fit for property owners, businesses and municipalities that are looking for charging stations for their employees, customers, residents and fleets. They offer the complete set of capabilities that station owners need to manage EV drivers and fleets.
All-purpose charging for your employees, customers, residents or fleets
Level 2 adds up to 25 RPH (miles of Range Per Hour)

CPF25 Level 2 Charging Stations for Fleets
The CPF25 is designed for fleet applications. CPF25 stations are ideally suited for businesses or governments needing EV charging solutions for their private fleet. For multi-family communities, CPF25 stations are intended for personal charging in assigned parking spots.
Fleet depot charging and personal charging at multi-family homes
Level 2 adds up to 25 RPH (miles of Range Per Hour)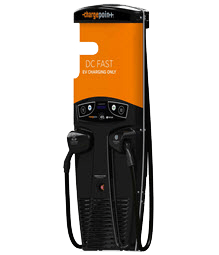 Express 100, 200 and 250 DC Fast Charging Stations
ChargePoint Express DC fast chargers allow gas stations, truck stops, property owners, businesses and municipalities to offer fast charging for all of today's EVs equipped with DC fast charging. With an embedded AC-to-DC converter, they directly charge vehicle batteries.
Express 100 can be used around towns, while 200 and 250 stations are ideal for businesses near major roads where drivers need quick turnaround charging.
Fast charging for short dwell time parking and freeway corridor locations where drivers need to quickly recharge
DC Fast adds up to 250 RPH (miles of Range Per Hour)
For National Government Sales, contact
Adam Polak – National Director Government Sales
770-688-1958 | Cell 770-401-4588 | apolak@blue1energy.com