Blue1 Energy Equipment, a leader in DEF storage and dispensing solutions, has reached another milestone as our Cube and EasyTank have been certified by QAI Laboratories for both US and Canadian markets. The UL 508 and CSA C22.2 No. 14 certifications, awarded after Blue1 demonstrated their quality control system and capability of manufacturing consistent products across all configurations, are a testament to our dedication to providing proven and reliable storage equipment.
"We are committed to providing high-quality products every time. This certification provides our customers with confidence in our products, and they can be assured that we are manufacturing to the highest standards," said Tom Nuckolls, President of Blue1 Energy. "This is another step forward in our efforts to provide our customers with industry leading solutions and we look forward to continuing to serve our customers with distinction."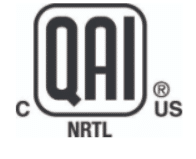 Effective immediately, DEF Cubes and EasyTank products will join our Platinum products in being marked with the QAI Certification Mark. The 'C' and 'US' indicate we meet the requirements for listing in Canada and the US while the 'NRTL' indicates our products fall within OSHA NRTL certification program. Periodic inspections by QAI will be performed to verify that our products and factory remain in compliance. You can view Blue1's full listed products in the QAI Directory.
Blue1's accomplishments in quality control are just one part of our continued progress and growth. With a long history of innovation and premier service, our recent investments in modernizing operations and developing new technologies will help deliver even more value to our customers and we will continue to be a leader in our industry for years to come. For any questions about our products or services, please contact us today.
QAI is an independent third-party testing, inspection and certification organization. Accredited by the International Accreditation Service (IAS), Standards Council of Canada (SCC) and recognized by OSHA as a Nationally Recognized Testing Laboratory (NRTL), QAI is a trustworthy agency whose mark symbolizes a company's compliance to standards recognized by regulatory officials. QAI has been providing certifications since 1995.